Horse Windsucking Collar
| | |
| --- | --- |
| Invented by Horsemen for Horses!! | |
| Unique design that WORKS! | 1000 horses can't be wrong! |
Windsucking Collar Sizes - FULL, COB, PONY
TECHNICAL RECOMMENDATIONS
The O'Leary Windsucking and Cribbing Collar should be adjusted up nice and flush with not a lot of room but not being unfair.

Remember, ALL windsucking collars loosen when horses put their Head down to eat or drink, so try to feed from the floor and not from a net.

There have been 2 unsatisfied Customers in 500 Sales and they were only from rubbing the Neck issues and then the design was modified and incorporated 'Kid Leather" which has solved that slight problem.

Oil Well to protect from Weather and keep nice for your Horse

A Major Saddlery Chain has tried to copy our Windsucking Collar, made changes and it rubs Horses necks. The Miracle Collar has now been proved to not work adequately. Due to the continual copying of HP Saddlery inovations, we cannot disclose exact details of this product.
Click on the link for more help for Windsucking - Problem and Advice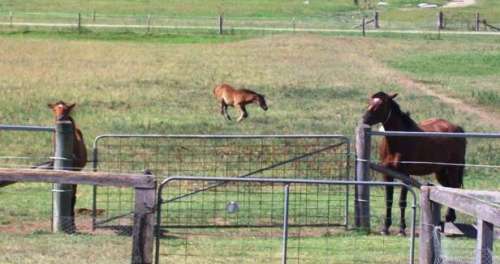 What Causes Windsucking?
Windsucking is generally caused by stabling horses for too long and creating boredom. Boredom causes stress which can create excess stomach acid to be produced This often causes ulcers, which can lead to cribbing and windsucking. Once a horse has learned to windsuck, it is a very difficult habit to break, but it must be addressed as it can be fatal if Colic results from it. In any case, your horse will lose weight as a result and horses can alo copy other horses who crib. The photo shows a foal windsucking with her mother. That foal will windsuck for life.
Horses don't windsuck just for the entertainment but because it also creates a lot of Saliva, which is alkaline and reduces the acidity in the stomach, making the horse feel better.
Hard feed, containing cereals and feeds containing mollases, create stomach acid, making ulcers worse and therefore also make windsucking and cribbing worse.
The O'Leary cribbing collar makes this windsucking action uncomfortable for the horse. It also saves your horses teeth (they can wear them down to nubs from doing this and then can not longer eat and chew correctly), and stops him from sucking air into his gut, which can lead to colic.
It is only fair, that if you need to use the O'Leary Windsucking Collar, that you also change your horse management as follows:
Try to increase turnout time for the horse, even if turnout is in an outside yard or arena.
Change your feeding regime to one which includes ad-lib forage, to prevent boredom. If your horse is a 'Good Doer', change the forage to one of lower energy.

YOU MUST Feed from the floor. NO HAYNETS!!!

Change your hard feed to one that does not contain cereals or mollases.
I also find that adding 70g of Limestone Flour/day, split into each feed, helps enormously to reduce stomach acid.
Turn out with another horse and provide a toy for them to play with. An old plastic trug is ideal - they will soon be playing 'Tug of War'.
Increase the time that you excersise and/or work your horse, including ground work. Give him something to think about.
Get your horse scoped for ulcers and treat accordingly, under Veterinary supervision.
You may be able to leave him without the collar during the day, if he is out on grass with other horses. Watch to see if he cribs anywhere, especially around the time that he comes in to be fed.
Testimonials
03/04/2016
"Dear John,
Just a quick email to let you know how happy I am with the O'Leary Windsucking collar. I bought one from you about 18 months ago, as I had inherited an ex-racehorse with an extremely bad habit of Windsucking. His Windsucking was so bad, he looked like he was getting an endorphin hit from lack of oxygen, as well destroying the wooden fences at the livery yard I was keeping him. He was also Windsucking in my trailer when I was travelling around and was destroying it!! The windsucking habit will never be curable, and the collar will always be part of his life however, it stops him from getting up the momentum to Windsuck on a fence post, he is eating normally and has put on weight. We tried a number of collars and none worked, my gelding worked out ways around the restrictiveness and just kept on going. At least I am able to still keep my boy at the livery yard, keep some weight on him as well my trailer is not destroyed. Thank you once again. Kind Regards, Sall"
++++++++
"Hello John,
Katie is absolutely THRILLED with the windsucking collar you invented. It is the only one on earth that we know that stops his windsucking!!! He doesn't even try windsucking when it is on as it seems to stop the air completely. The "Miracle collar" (photos attached) worked for a while but he could always suck the slightest bit of air in and he would always keep trying. In the end he worked out how to suck air in quite successfully. Your collar, however, just works! We're finding it rubs him less as well (it keeps his bridle path trimmed, but that's about it!)

HorsePower Equine [email protected]"
++++++++
Hi John,

Just wanted to say thank you again for donating your windsucking collar to Grace. She is doing MUCH better. I put it on loosely to begin with and did it up a hole at a time so she could process what was going on and give her body a chance to wean off the endorphins. Now she's on the tightest hole I could go and doing really well. She seems happy for the first time since she's been here and it's like she's suddenly rediscovered the joy of food! She's finally stacking on weight and everything is looking really good.

Thanks so much.

Jo

Joanne Schoenwald
President/Founder, Charlie's Angels Horse Rescue Inc.
++++++++
9/11/10
I would just like to drop you a line to let you know how happy I am with my O'Leary Windsucking Collar. I have tried every other collar on the market as well as all of the systemic options on my horse Macushla an ex- racehorse, now eventer. They worked for a short time and stretched (in the case of the Miracle Collar, so that it no longer sat in the correct position around the ears and consequently caused rubbing and great discomfort. Other collars just caused rubbing after a short while. I have been using the O'Leary for several weeks now and my horse is not even bothering to try sucking and has gained a lot of weight, (although he was always in good condition with a lot of effort involved) and lost that ribby look that suckers have. He finishes a meal and then goes straight out to graze. What a relief. There is no rubbing and I now do not feel like the meanest person on Earth.
Thank you so much.
Sincerely,

Debra Townsend
Quality management systems Consultant
Many Thanks Debra. It is amazing but do you know that I rarely get feedback that they work. I know they do and they must be with the vast majority because People soon complain these Days so thanks heaps for taking the time. I have just upgraded them (like everything...I am compulsive) Happy Horse and that is what makes Life worth it. I'll tell Michael when I see him soon.
++++++++
Dear John,

First off, let me send my warmest wishes to Mrs HP, what a trooper! Hopefully she is back home soon and on the steady path to recovery!

I just wanted to send you an email thanking you for the WONDERFUL windsuck collar. I have tried everything to keep weight on my 10 yr old Tb (of course you already knew the breed, didn't you :p ), and winter especially has been tough on him. He just wouldn't eat! Sucking on his posts was much more important. Prior to your collar we had tried the regular metal ones (he worked out how to keep doing it and broke one clean in half), the miracle collar, which left bare, raw patches on him, sprays, electricity (he'd just find something else) and even spreading his own manure on top of the posts! Nothing worked, but I was scared to try the shock collars as he is kept in a pasture, and I had horrible images of him being zapped for hours if it malfunctioned!

His vet that first treated him post-racing injury (5 yrs ago) told me of this amazing collar he had gotten from an 'old bush horseman', which was more like a dog collar, had 2 buckles and was GUARANTEED to work. He told me any saddler could make one. Well, having never seen one myself, I tried several good saddlers, but they all recommended the miracle collar... So you can imagine my excitement to find them on your site!

My boy has been wearing it now basically 24/7, it only comes off for grooming/riding etc, and has been through 1 full winter. He came through winter looking amazing! Excellent weight, on nothing other than constant access to grass hay, poor pasture and hard feeds only after work. He is now the best he has looked in 5 years, but is eating the least I have ever fed him in that time! This is also the first colic free winter we have had J Best of all, there are no sores or bare patches, the leather is still soft (even after LOTS of mud rolls), and I can foresee many good years of use!

I can't thank you enough for making my horse a joy to have, instead of a constant heartache, and I'd recommend these collars to anyone!

Regards,

Sarah & Master Chief
[email protected]
+++++++++
" Hi John,

Just wanted to send you some feedback on the wind sucking collar I bought from you.
Caesar is a 16.3hh 14 Y/O OTTTB that I brought home this time last year; wonderful nature but as a result of a racing career, was a chronic windsucker.
I was using one of those typical collars that you can pick up from any old saddlery which was more like an ornament than a preventative for his problem; basically it did nothing and in no time at all my fences were a mess.
Sucking was the first and last thing on C's mind - if he was stressed he would suck, if he was waiting for his dinner he would suck, if he was in between munching hay, he would suck. It was a real mental problem for him that had manifested into a physiological behavior, and it drove us both nuts.
I read about your new collar on your website, and the rest is history!
Caesar has been wearing his collar for about a year now; it only took two (2) or three (3) attempts to suck with the collar on before he gave up and walked away; sucking is impossible with this collar, it stopped immediately.
The transformation over the past year has been amazing; Caesar has gone from a horse whose only interest was to suck (and as a result withdrawn from the herd and us) to a horse that has a new lease on life. He now initiates play with the youngsters and seeks out people for a scratch and a carrot as opposed to latching onto something/anything and sucking.
The collar itself has stood up to it all; wind, rain, heat etc.. It's a beautiful piece of work that will last a lifetime.
Anyone that owns a windsucker should have this collar.
Pic to follow; I'll take some happy snaps tonight!

Cheers,
Joyce "
+++++++++
Hi John,

Hope Linda continues to improve and has no further set backs.
I wanted to thank you for the Windsucking collar I purchased around a month ago... It has made a big difference for my gelding and he now only licks the fence and (attempts) windsucks for short amounts of time and increasingly less often as each week goes by. He is more settled and is doing much better in his training too.

Taryn
+++++++++
Great collar. Works perfectly on my 12.2 pony. We have used the nutcracker and the miracle to no avail. The only other one that worked was the barclays but that didn't last long. Great product. Very happy.
Thanks
Jackie
Jackie Forrester <[email protected]>
+++++++++
Hi John,

If anyone lis ooking for a collar to help their wind sucking horse, I recommend they give your collar a go. I have had a wind sucking thoroughbred for about 3 years now; if I knew then what I know now... I have tried two or three different collars (he came with an aluminium one which broke not long after). I wasn't happy with their performance and they also rubbed him raw a few times. So we went searching the internet again looking for new options.

We came across your website and thought we would give one a go. That was a bit over 2 years ago now and your collars do the job with no rubbing and that has been through some really lousy and wet weather on the NSW coast. I don't think he will ever stop wind sucking - as soon as the collar comes off, he looks for something to suck on. But, with the collar on, no wind sucking and no problems feeding or other normal activities with the other horses in the paddock. with the collar on he feeds normally with the other horses. We finally had to replace the collar this week as the straps finally wore out. When it was time to replace the collar, we came straight back to your website.

Keep up the good work and thank you for a product that doesn't hurt the horse but stops the destructive habit while the collar is on.

Cheers,
Robert Harris
Telegraph Point, NSW
TO ORDER CLICK HERE